Search Providers in your Location for
Septic Tank-Different types
All about septic tank



  A septic tank is a water tight chamber made of concrete, fiber glass, PVC or plastic, through which  domestic wastewater (sewage) flows for primary treatment.Settling and anaerobic processes reduce solids and organics.There are ready made septic tank and site made septic tank.
Different type of  septic tank 
Concrete septic tank,Fiber glass Septic tank, PVC or plastic septic tank, Site made septic tanks are  major septic tanks used nowadays

Precast Concrete septic tank.
Advantages of Precast concrete septic tank.
Precast Concrete Septic Tanks are stronger than tanks made of steel, plastic, fiberglass, or high-density polyethylene (HDPE).
Rusting is not an issue for precast septic tanks.
Concrete septic tank is very heavy.So it will never "float" to the surface as some lighter weight tanks can do in certain situations.
Concrete septic tanks are long lasting and durable.
Concrete septic tank is very strong and can install under vehicle transportation area also.
Precast concrete is flexible enough to withstand extreme loading conditions without the worry of catastrophic failure.
        More from Shea concrete precast concrete septic tanks
Disadvantages of Precast concrete septic tank
Due to bad workmanship Concrete septic tank may be  caused leakage in certain cases.Rusting of steel bar in concrete may be  happen in this case.Proper checking should be done before installing  on  the ground.
 

Due to its heavy weight transportation  is a heavy task.



Plastic,septic tank,PVC or HDPE, FRP,
FRP Septic tank(Fibre-reinforced plastic/polymer ):all biological purification tank is glass fiber reinforced unsaturated polyester resin of high strength glass fiber composite materials as the main material, the use of advanced FRP winding or hand lay-yang model of the production process the cylinder pressure increases wheel-shaped head convex surface of the structure.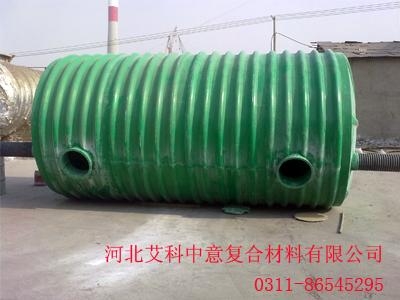 Polyethylene Septic Tanks:As the name suggests,  Polyethylene Septic Tanks, are made of Polyethylene in a single moulding. The unique size and 3 chamber design of Polyethylene Septic Tanks play a very important role in processing waste. There are two man holes provided for convenience. The high wall-thickness withstands load and pressure of the earth to a great extent. Being lightweight, it is very easy to transport and install.These septic tanks are made in salt resistant, nondegradable plastic. Hence they are more suitable in saline areas. All that has to be done for fitting the tank is to connect the drain line to the inlet, and the outlet to the soak pit. Cover the manholes with the lids provided and the tank is ready to use. Read more from    UNITED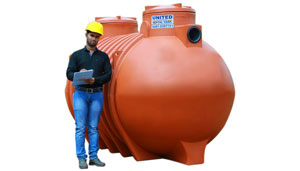 Advantages of  PVC or plastic septic tank
 

Plastic septic tanks can be water-tight and corrosion proof.
As plastic weighs less than concrete, it is much easier to get a plastic septic tank into the location for installation.
Disadvantages of  plastic septic tank
 

Because plastic is such a light-weight material, it can be damaged at installation.
If not installed properly, a plastic septic tank can "float" to the surface of the ground.
         Polyethylene Septic Tanks  & Fibre-reinforced plastic (FRP)
 

Vertical septic tank


Vertical septic  tank is designed to reduce buoyancy effect.That is an upward force exerted by water that opposes the weight of an immersed object. In a column of fluid, effect during monsoon, preventing it from floating during dry run of the tank. Read more from UNITED
 
 
What is the size of my septic tank
Capacity of a septic tank is the first consideration for constructing or purchasing a septic tank.The size of septic tank depends on number of users and interval of sludge removal.The liquid capacity of tank is taken as 130 liters to 70 liters per head.
Design of  septic tank
As per IS 2470  Septic tank shall have minimum width of 75cm, minimum depth of one metre below water level and a minimum liquid capacity of 1 000 litres ( 1 m3).
For rectangular septic tanks, the length of the tank shall be 2 to 4 times the width.the floor of septic tank is given a slope of 1:10 to 1:20 towards the inlet side. ie the floor of the outlet side will be on the higher elevation than the floor at inlet side.
For circular tanks the minimum diameter shall not be less than l-35 m and operating depth shall not be less than 1-O m. Read more from the constructor
Some technical  words to understand
Detention Time. The theoretical (calculated) time required for a given amount of water or wastewater to pass through a tank at a given rate of flow. The time required to fill a tank at a given flow
Conversion  of  litter to gallon: 1litter=.264 US gallon ; I gallon =3.78 litter
Anaerobic digestion : is a collection of processes by which microorganisms break down biodegradable material in the absence of oxygen. 
Effluent sewer systems, is that collect sewage from residences and businesses places, and the effluent that comes out of the tank is sent to either a centralized sewage treatment plant or a distributed treatment system for further treatment or to leach pit.
Functioning of a septic tank
:In general, these pipe connections are made via a T pipe, which allows liquid to enter and exit without disturbing any crust on the surface. Today, the design of the tank usually incorporates two chambers (each equipped with a manhole cover), which are separated by means of a dividing wall that has openings located about midway between the floor and roof of the tank.Waste water enters the first chamber of the tank, allowing solids to settle and scum to float.  The settled solids are anaerobically digested, reducing the volume of solids.

The liquid component flows through the dividing wall into the second chamber, where further settlement takes place, with the excess liquid then draining in a relatively clear condition from the outlet into the leach field, also referred to as a drain field or seepage field, depending upon locality. A percolation test is required to establish the porosity of the local soil conditions for the drain field design.septic tank generally consists of a concrete or plastic tank (or sometimes more than one tank) of between 4000 and 7500 liters (1,000 and 2,000 gallons) connected to an inlet waste water pipe at one end and a septic drain field at the other.